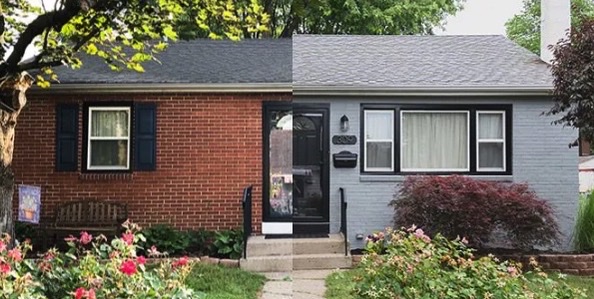 18 May

What You Need to Know About Painting a Brick Exterior

Painting red brick exteriors has become popular in recent years. In a tight real estate market, many people turn to buying older homes and renovating them to get the look they want. However, is it advisable to paint any brick exterior? The answer is no. Not all bricks should be painted. At Home Works Painting, we're happy to assess your brick and provide our assessment and an estimate if the brick is paintable.

Here is what you should know about painting brick.

Brick Exteriors

Most bricks were not created to be painted. They're typically made to serve as the exterior and final layer. Its durability as a building material has made brick a popular option. They come in different sizes, types, colors, and, to some degree, durability. While some bricks may be painted, not all bricks accept paint well.

Hiring a painter with expert skills and experience is essential if you want the paint job to last. How – and by whom – the paint is applied will make all the difference in your investment.

Evaluating Brick

A qualified professional can determine if a particular brick can accept any paint well by assessing its quality and condition.

If your brick is in poor condition and shows signs of deteriorating, chipping, mold, efflorescence (white residue), moisture, or chipped mortar, it might be too compromised to sustain paint well through the years. It's not a good idea to paint over it.

The brick is also compromised if moisture has seeped behind or into it. The paint won't adhere well to its surface.

Brick facades should be carefully assessed to determine whether painting it will be a good idea in the long run.

Correct Primer for Brick

Selecting the correct primer is critical to the success of the project. Bricks are typically chemically neutral, while the mortar is more alkaline. Because of the chemical difference between the brick and mortar, an experienced contractor can determine the correct primer to use.

The Presence of Efflorescence

Most of us have seen a white residue on older bricks. It's something called efflorescence, and it shouldn't be ignored. It's a salt build-up on the brick's surface, which can indicate moisture inside the brick. And, as we said, moisture can prevent you from painting brick.

The efflorescence should be removed, and you should wait to see if it returns. If it does return, it points to moisture that should be addressed. It also means it's not advisable to paint the brick.

Prep Before Painting

Before applying any paint, a thorough inspection of the brick facade should be done. Cracks must be sealed, and the mortar should be repaired.

As with all painting projects, the brick's surface must be professionally cleaned with the right products before applying primer and paint. After being cleaned, it should dry for at least 24 hours.

Correct Paint

Once the brick has been adequately primed, it's time to paint. But using the correct paint will impact the integrity of the project and the longevity of the paint. Brick can be painted or stained; we're happy to discuss the differences with you.

According to the Brick Industry Association, porous paint for exterior brick walls should be used, so the brick can breathe. We recommend using high-quality paint. This isn't a project where skimping on quality will pay off, and the correct products should be used.

Contact us at Home Works Painting for a free assessment of your brick if you're interested in painting over it. We have experience painting brick interiors and exteriors and know which products to use and how to correctly complete the project.