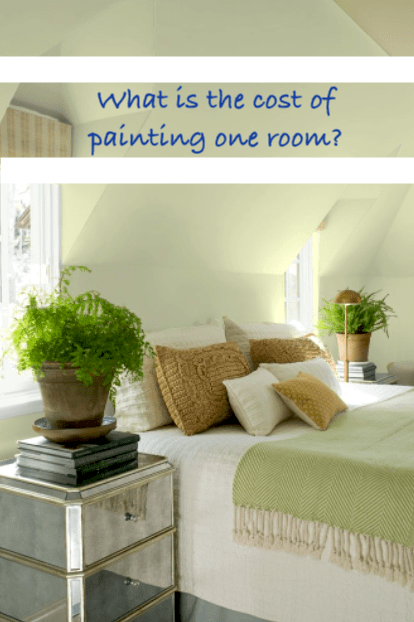 10 May

How much does it cost to paint a room?

"How much does it cost to paint a room?" is a question we sometimes hear on the other end of the phone as Northern Virginia painters. Great question! But the answer isn't as simple as you might think. And giving someone an estimate over the phone is tricky. It's hard to make guesses without seeing a room. Also, whether you do it yourself or hire a pro will affect the cost.

The cost to paint a room depends on several factors, not the least of which is if you're going to do it yourself or hire an experienced professional painter. Like everything else these days, product and, consequently, labor prices have increased.

If you plan on painting an average-sized bedroom yourself, you might be paying somewhere between $1.75 to $3.75 a square foot. The price difference is based on the quality of paint and materials you use. (One gallon of interior paint can cover up to 400 square feet of space.)

If you hire a reputable pro, you're looking at an average of $3 to $4 per square foot. Yes, there's a difference between DIY and a pro – but for good reasons.

What Affects Cost?

Painting costs will be affected by:
A room's layout, including room shape
The height and width of walls and ceiling
Any built-in features, including trim work
Heavy paneling or textures on walls or ceilings
Existing wall colors, particularly dark colors
If it's necessary to prime walls first
If the walls are new, unpainted sheetrock
Geographic location
Type and quality of paint used
Amount of prep work required
If there are sheetrock or trim repairs to be made before painting
As you can see, it's not a one size fits all type of project. This is why it's critical to have eyes on the project and answers to our questions before we quote a price for a project.
Paints Types
The type and brand of paints used will affect cost. However, it's critical to use the correct paint type on your project, or you might need to repaint almost as soon as you're done. If you're painting over an already painted wall, you'll need to know what type of paint it is or prime to avoid flaking and bubbling.
The two main types are latex-based and oil-based paints.
Latex-based paints can cost an average of $15 to $50+ per gallon. Latex-based paints hold up well over time. They're suitable for living or family rooms, hallways, bedrooms, and high-traffic areas.
Oil-based paints cost more, with an average of $20 to $60+ per gallon. These paints are more likely to chip over time but hold up better against moisture. They are ideal for bathrooms and kitchens.
Paint Finishes
Paint finishes also vary in price and durability. A professional painter will know which paint finishes are better for specific spaces or conditions.
Eggshell paints and satin paints cost $11 to $60+ per gallon. They are good options because of their durability.
Flat paint does best in low-moisture conditions, so it shouldn't be used in bathrooms or kitchens. They cost an average of $10 to $70 per gallon.
Semi- and high-gloss paint costs an average of $12 to $80+ per gallon. They're ideal for trim, baseboards, or other features like built-in bookshelves.
DIY vs. Professionals
Although you might save money upfront by doing the work yourself, the cost of paying a professional painter to do the project is undeniably worthwhile. They will save you effort and time. More importantly, they have professional-grade equipment, the right expertise, and know which materials are needed for your particular project.
If you want to paint a room yourself, you will likely need to go out and buy all the supplies and materials you will need. We recommend speaking with a paint professional in a store about which brands, finishes, and paint types are best for your project. Also, you will likely need their expertise to guide you on which materials and supplies you will need to purchase.
We've seen homeowners start a paint project only to realize they're in over their heads. Ultimately, it typically costs them more because they didn't use the pros from the start. If you have a Northern Virginia project, we'd be happy to discuss it and provide you with a free, no-obligation estimate.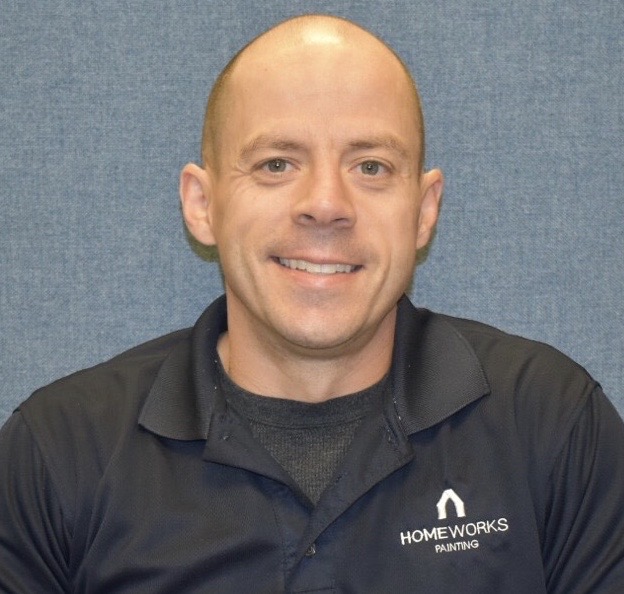 Mike Katounas is the owner of Home Works Painting, a painting business in Northern Virginia. He has over 15 years of experience in residential interior and exterior painting, drywall installation/repair, carpentry, wallpaper removal, power washing, commercial painting, color consultation, and staining/sealing. Their service areas include Chantilly, Fairfax, Herndon, Oakton, Reston. Mike takes pride in his work, and he always follows a strict code of conduct that includes the use of quality paint, a clean workspace, and an honest, respectful approach to his customers.