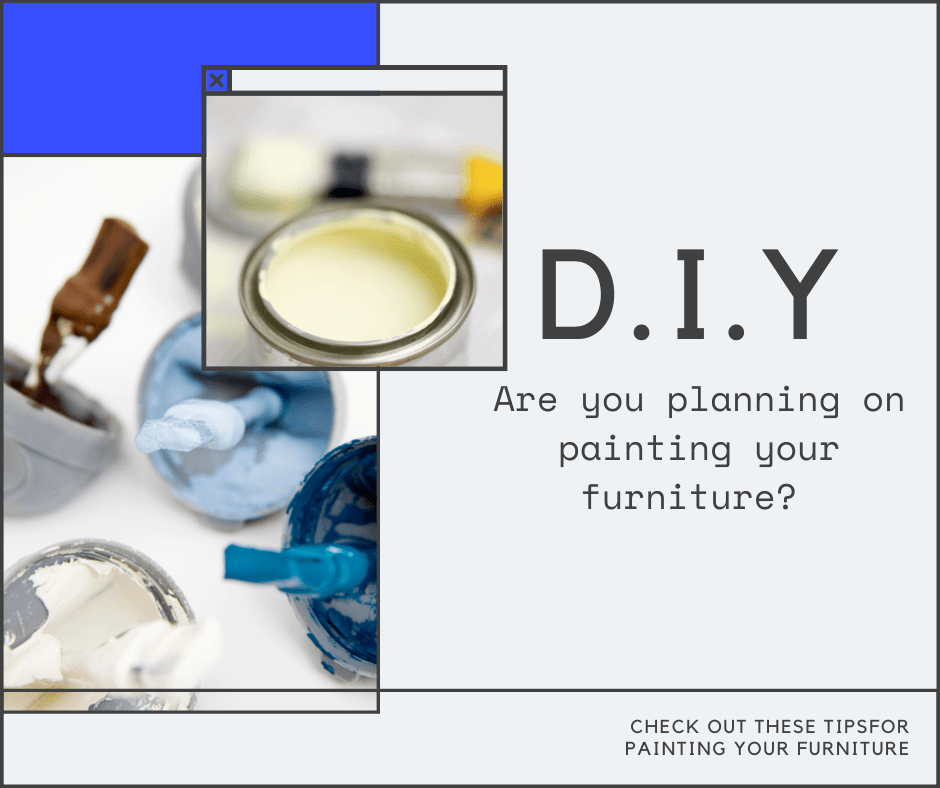 15 Mar

Tips for D.I.Y. Furniture Painting

As Northern Virginia painting contractors, we do a lot of painting, including cabinets. However, we don't repaint furniture, but we know some of you do. And for those who don't, it's a great do–it–yourself project that can save you money. Repainting furniture is an almost instant makeover. So, we want to offer our tips for repainting furniture! You might enjoy the satisfaction of seeing your handiwork transform a favorite piece into a thing of beauty!

If you want to tackle the project yourself, here are some tips:

You'll Need:
Painter's tape
Primer
Paint, preferably oil-based, as

it

's more durable
Brushes and/or roller or spray painter*
Tarp or other floor covering
*Spray painting furniture rather than brushing or rolling tends to achieve a smoother finish with professional-looking results. However, we highly recommend using a high-quality paint sprayer, which you can either purchase or rent.
Prep:
This is the most critical step. If done correctly, you can count on the finish lasting longer because the paint will adhere better to the surface.
Clean the piece thoroughly using a mild detergent or quality wood cleaner, depending on the surface material.
Wipe with a damp cloth to remove all traces of soap. Repeat as necessary until all of the soap is removed.
Remove the doors and hardware from the furniture piece. We suggest storing the hardware safely in a marked bag. Labeling which doors the hardware came from is worth the time to make

it

easier to reinstall.
Use painter's tape to cover anything you don't want to be painted on the furniture piece.
Once the surface is completely dry, lightly sand using high-grit paper.
Prime:
Please don't skip the primer, however tempting

it

is!
Prime in a well-ventilated area.
A paint store can advise you on the best primer for the furniture, depending on whether

it

's stained or painted and the material.
We recommend priming (and painting) the front panels and inside edges of drawers.
Propping up the drawers and fronts on something will make

it

easier to paint tricky inside edges.
Let the primer dry thoroughly before the next step.
Once again, use high-grit sandpaper to sand lightly.
Wipe down to remove all dust before moving on to the next step.
Paint:
Begin painting from top to bottom using your chosen application method of brush, roller, or sprayer. Avoid over-saturating the surface and tool with too much paint, and watch for drips!
Apply a second coat.
Let dry thoroughly for several days before reinstalling any hardware and drawers and using the furniture.
These types of do–it–yourself painting projects can be very rewarding. Also, it's fun to see the before and after. Moreover, repainting or refinishing a piece of furniture can save you money. Plus, it's good for the environment to reuse what you already own!
Contact our offices if we can assist you with any of the professional services we offer (listed on our website). We are reliable and trusted professional painters providing a comprehensive range of services in Northern Virginia.