03 Jun

The Benefits of Staining Your Wood Deck – before and after pictures!

A service we provide as painting contractors is wood deck staining. These before and after pictures speak for themselves – staining wood can completely transform the look of wood. Our client, Bill R. in Purcellville, VA, had recently added the enclosed porch and asked us to stain it. But wood staining is about more than aesthetics. It also can protect the wood and extend its life.

Benefits of Staining:

Staining protects wood from water damage, natural wear and tear, and fading due to weather. If you've gone through the expense of adding a porch/deck, or your home came with one, you'll want to protect the wood – and your investment.

Prevent Weather Damage

Weather can damage wood, even if it's treated or stained. The sun can fade the color, warp the wood, and even dry it out, making it more susceptible to splintering. Snow, ice, sleet, and humidity can also take a big toll on wood that's not stained correctly.

Repels Moisture

Staining the wood can help prevent moisture from soaking into the wood. Wood that absorbs any moisture can grow mildew or mold and, eventually, rot. It can also attract wood-burrowing pests, like termites.

Maintain Color

As we said earlier, there is an aesthetic component to staining or restaining your wood deck. You can change its look by selecting from a variety of stain colors available.

Staining:

Staining isn't as straightforward as it might sound. Before any wood is stained, it must be thoroughly (and correctly) prepared. This means a good cleaning with an acidic solvent must be done to remove all grime buildup. If there is any damage, it might be necessary to carefully sand down or replace some of the boards.

Once the wood is cleaned, prepped, and completely dry, it's ready to be stained. It might be necessary to add several coats of stain. Every wood is different, as is every stain product. They need to be correctly paired. A professional will know which products to use and how to use them on your deck for the best results.

Lastly, the correct application of the stain depends on the product and your deck. Sometimes, the stain is brushed on; other times, it's rolled on. The key is good penetration of the stain into the wood for the best results.

Maintenance:

You also will want to refresh the stain every few years so that your deck stays long-lasting and beautiful. Regular maintenance of your wood deck helps keep its color, grain, and durability. The more weather (snow, rain, sleet, ice, direct sunlight, and humidity) the wood is exposed to, the more maintenance is needed. However, correct preparation and the use of high-quality materials are critical if you want to adequately protect the wood and achieve long-lasting results.

If you're ready to use your wood deck this summer and want to refresh its look, call our office to schedule an estimate. We'd love to get it spruced up for the upcoming summer – just like we did for Bill in Purcellville, VA!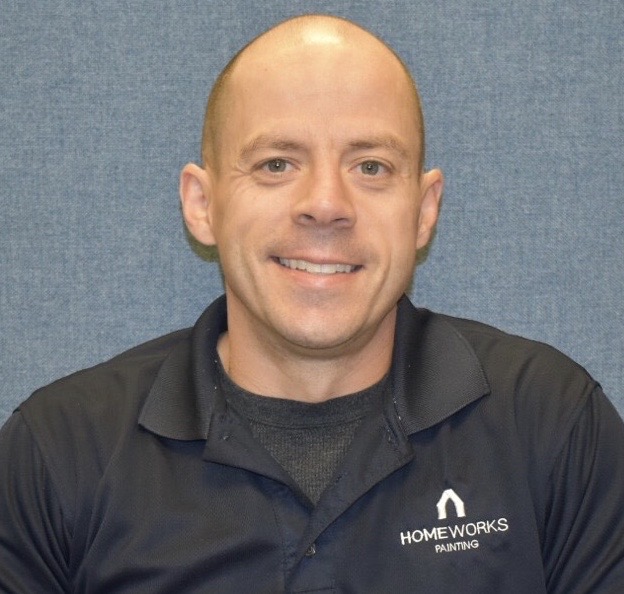 Mike Katounas is the owner of Home Works Painting, a painting business in Northern Virginia. He has over 15 years of experience in residential interior and exterior painting, drywall installation/repair, carpentry, wallpaper removal, power washing, commercial painting, color consultation, and staining/sealing. Their service areas include Chantilly, Fairfax, Herndon, Oakton, Reston. Mike takes pride in his work, and he always follows a strict code of conduct that includes the use of quality paint, a clean workspace, and an honest, respectful approach to his customers.