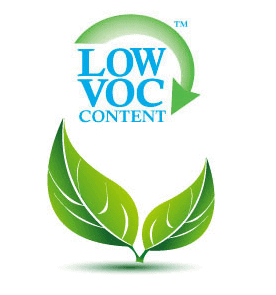 05 Oct

Should I use low or zero-VOC paint?

A freshly painted room can be beautiful, but the odor from fresh paint can be unhealthy. Most paint brands today contain volatile organic compounds (VOC). VOCs can negatively impact your home's indoor air quality causing respiratory and other health issues. While VOC gasses typically evaporate within hours or days, there is evidence that interior gases can last for much longer.

The good news is that there are plenty of low or zero-VOC paints available as a healthy alternative. Consider using a low or zero-VOC paint if you are concerned about any potential adverse effects from paint VOCs in your home. (We usually use Benjamin Moore paints, which offers several low or zero-VOC products.)
What Are VOCs?
VOCs are described by the Environmental Protection Agency as "organic chemical compounds whose composition makes it possible for them to evaporate under normal indoor atmospheric conditions." VOCs are made up of d-Limonene, toluene, acetone, and Formaldehyde. They are the chemicals that create fresh paint odor, but VOCs can be emitted from other items such as new furniture or rugs.
What Is the Difference Between Low-VOC and Zero-VOC Paint?
Low-VOC paints contain the chemicals mentioned above and off-gas (release) harmful fumes, but less than traditional paint products. As a standard, they should contain no more than 50 grams per liter of VOCs.
Zero-VOC paints contain very little or no VOCs and are considered the healthiest or "greenest" paint available. Some VOCs actually contain 5 or fewer grams per liter. Natural paints, such as chalk or milk, contain no VOCs at all.
While laws or regulations surrounding VOCs vary by state, there are things you can do to protect your family. Consider using zero-VOC paints. This means none in their paint mixture, as well as their tinting process.
We're always happy to address concerns regarding the use of "healthier" paint. Please call our office with any questions or to schedule an appointment for a free project estimate.