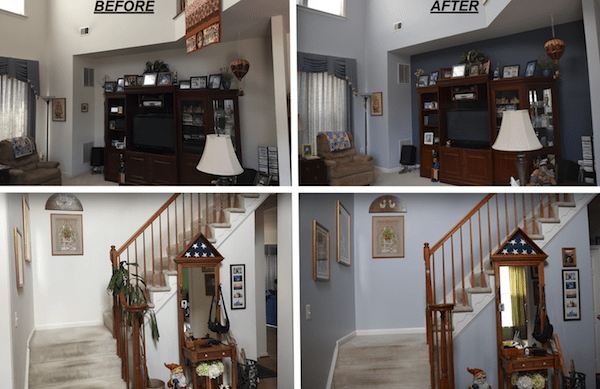 13 Apr

Project of the Monday: Carol & Mike

When our clients Carol and Mike contacted us, they wanted to update the look of their home without doing a significant or expensive overhaul. As an experienced painting contractor, it was easy for us to help them achieve the look they wanted. We refresh the look of their home with some new, up-to-date paint colors – see the before and after pictures. Carol and Mike understood the impact color could have on a space, and we congratulate them for their savvy color selections. Color can quickly change the appearance of a room.

Here's how we achieved this smart look for our clients:

We repainted the foyer, hallway, living room, dining room, kitchen, family room, stairwell, and upstairs hallway. We didn't repaint everything, though. We left the burgundy in the dining room below the chair rail and left the deep navy blue walls in the dining room. Both colors add interest in those rooms, so there wasn't any need to change them out.

In the living room, we painted one wall darker than the rest for some additional visual interest. Selecting a color on the same spectrum, but a few shades deeper/darker can add depth and interest to a room. (If you want to take it up a notch, you can add some wood trim or moldings as well.)

Before we arrived, Carol and Mike removed all the pictures and wall hangings, but we removed all of the valances. We reinstalled the valances once we were done.

As is typical with our projects, we repaired all major wall defects including nail pops, any loose nails, hairline cracks, and any defective tape joints. Wall prep is critical to the overall success of any paint project, so we always ensure we do it well. The results speak for themselves, and our clients will be able to enjoy their home's new look for years.

If you feel your home is ready for some new paint, contact our offices to schedule an estimate. We'd be happy to work with you on a free, no-obligation quote.