22 Mar

Painted Ceilings

We don't get a lot of requests to paint ceilings with a color, but there's no reason why we shouldn't. For one thing, we're very well qualified to paint a ceiling. Second, it's a great idea! Many interior designers consider ceilings as a fifth wall and see them as an opportunity to get creative. We couldn't agree more. Why stick to white if you can add some pizzazz to a room with a painted ceiling?

Getting Started:

One idea is to mix white paint with a few drops of the room's wall color. This breaks up the white without adding to much color. However, as you're already considering ceiling color, why not take the plunge and put up a full-strength color (no diluting it with white paint)?  It adds a lot of design interest as well as a nice, non-traditional focal point in a room. If you have high ceilings, it also helps balance the space. The ceiling is no longer a white void above, but a well-thought-out part of the room's design.

Typically, painted ceilings look best and offer the most sense of balance, if they're not done in a large space. In a big area, it can overwhelm rather than enhance a room.

Add Drama:

Painted ceilings in a dining room or powder room can be spectacular – especially if it's an interesting color (think metallic or sparkly) Both of these rooms are ideal for a painted ceiling. Consider it a "highlight wall" – except that it's horizontal and above you instead of vertical and in front of you. If there are any ceiling moldings or medallions, then all the better because color helps draw the eye upward and further adds to the impact of the moldings. You can also paint a bedroom ceiling. More on that next.

Paint Everything the Same Color:

An idea for a small room is to paint everything the same color – including the walls, baseboards or other moldings, and the ceiling. We've even seen doors painted to match. Sounds like it would be overwhelming. Typically, it's not. It can give the space a sense of infinity – no boundaries of color to break up the look. The effect can be stunning.  People can be hesitant to give this idea a shot so we recommend doing it in a powder room where going bold usually works very well. However, doing it in a nursery or child's room can be a showstopper!

Color Blocking:

This is that idea we mentioned of adding a few drops (or a lot more) of the wall color into white paint for the ceiling. The effect is a lighter version of a deeper hue. For example, try navy on the walls with a lighter version on the ceiling in a powder room. In a study or library, a deep moss green on the walls (and even the shelves) with a lighter variation on the ceiling turns it into a warm space.

Dark Ceilings:

Like a beautiful night sky, there's something dramatic and appealing (even romantic) to a dark ceiling. It draws the eye up, gives a sense of balance to the room, especially if there are high ceilings in a small room,  and can feel like a top to an open container. In a bedroom, it's especially appealing and comforting. Think of it like looking up into a night sky from your bed.

Finishes:

For most ceilings, we'd probably recommend a flat finish. Anything else will show even the slightest imperfections in your ceiling. Add in artificial and natural lighting, and you'll see absolutely every flaw in the sheetrock.

We hope we've got you thinking about painting a ceiling in your home. If you have any questions, please let us know. Also, all of our clients are entitled to one free hour of color consultation for their project with our professional interior designer.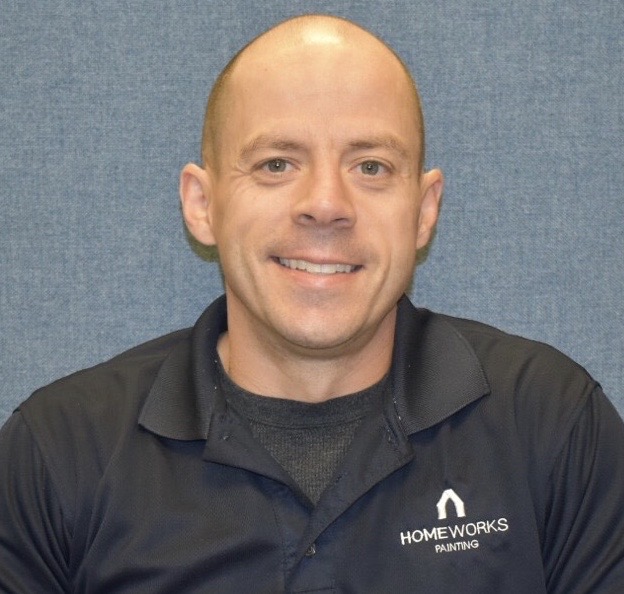 Mike Katounas is the owner of Home Works Painting, a painting business in Northern Virginia. He has over 15 years of experience in residential interior and exterior painting, drywall installation/repair, carpentry, wallpaper removal, power washing, commercial painting, color consultation, and staining/sealing. Their service areas include Chantilly, Fairfax, Herndon, Oakton, Reston. Mike takes pride in his work, and he always follows a strict code of conduct that includes the use of quality paint, a clean workspace, and an honest, respectful approach to his customers.