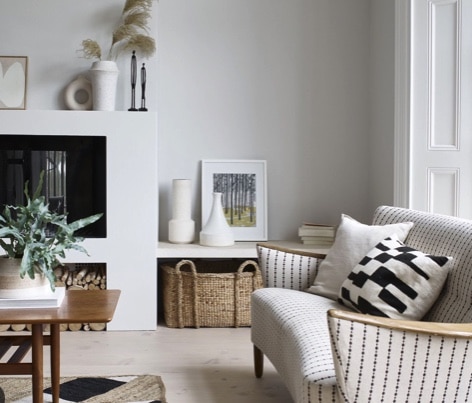 09 May

Our Top Choices for White Paint Colors

It's tough to go wrong with white-painted walls. It's a safe, neutral backdrop for any design style. If you're unsure what color to paint your walls, consider using white. You can always add pops of color with furnishings, an accent wall, or window treatments. But which shade of white? There are hundreds of shades of white to select from, each with its own tint or undertones.

How to Select a White

For a north-facing room, white can appear very stark. To avoid this, consider white paint with undertones of yellow or red. A white with cooler undertones will tone down the bright light typical in a south-facing room.

Before you finalize your pick, we recommend painting samples onto the walls. Check the colors throughout the day in various lighting conditions. Light can affect the appearance of paint colors, so it's essential to check it at different times of the day!

To help you out, here are five of our favorite popular white paint colors.

White Dove OC-17, Benjamin Moore

This is a perennial favorite with interior designers. White Dove from Benjamin Moore. Soft yet bright, it's ideal for moldings and trim but also looks great as an all-over white paint color. Pair it with dark gray or black accents for an energizing, high-contrast look.

Pure White SW 7005, Sherwin-Williams

Pure White is one of Sherwin Williams' most popular and versatile colors. This versatile white shade has a slight yellow undertone, so it doesn't appear too stark. It works well on different surfaces and spaces, from trim molding to kitchens, baths, living rooms, and bedrooms.

Wimborne White No. 239, Farrow & Ball

If you want a softer white with a hint of beige and yellow, try the creamy Wimborne White from Farrow & Ball. It has a touch of a warm yellow pigment to soften its appearance. Try their All White shade if you prefer a brighter, purer white from the same brand.

Sanctuary SW 9583, Sherwin-Williams

Sanctuary from Sherwin-Williams is another warm white that is highly versatile. Paint the trim in a crisp, pure white for a touch of contrast. This restful color is pretty in a room where you want to create a relaxing, neutral background.

Revere Pewter HC-172, Benjamin Moore

Revere Pewter is a white shade when you don't want white but definitely want a neutral color! It's an iconic off-white paint color that settles between beige, white, and gray colors.

We hope you found our suggestions helpful! If we can help on your next paint job, call our office or use our online scheduler for a free, no-obligation estimate. We are one of Northern Virginia's premier painting contractors with two decades of experience.