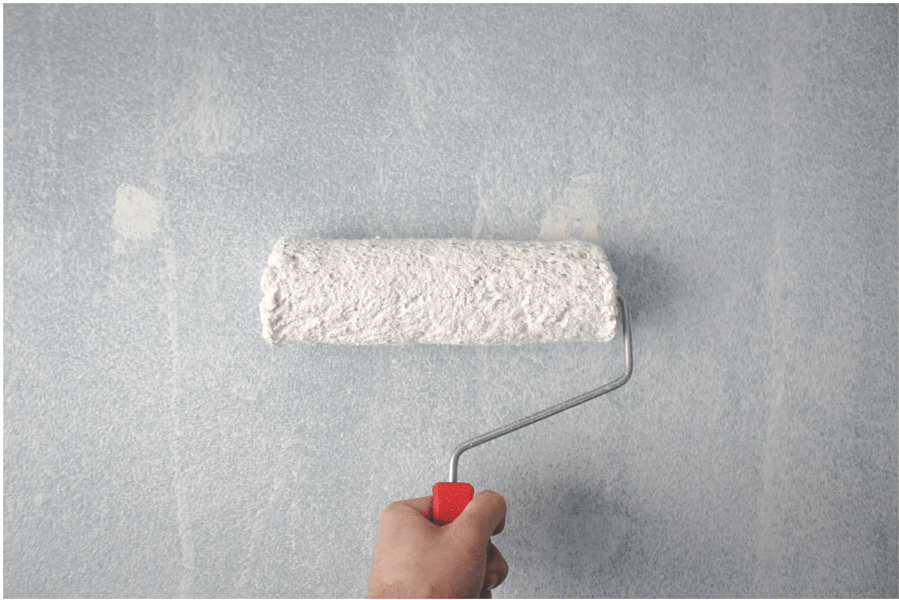 19 Aug

Expert Tips for Choosing Paint Color for Your Home by Redfin

As you probably know, painting a room or even a single wall in your home is a project that can have a major impact on any space. But with the entire rainbow to choose from, picking the perfect paint colors can be an overwhelming task. The good news is, we're here to help. We asked painting and design experts from San Diego to New York to share their best tips and tricks for choosing paint color for your home. Check out what they had to say.

Never pick your paint colors first. Figure out where you want to pull inspiration from whether it be textiles in your home, fashion trends, or your surroundings in nature. Then move on to test your colors in the actual space where you'll get an accurate feel in terms of the natural and artificial lighting. – Fresh Paint by Garman Homes

Use toned colors. Successful paint color is always "dirtied" with brown or gray. When you fan through a complete paint chip deck with hundreds of color gradations and subtle color shades, select less "pure" colors. Toned colors are much more palatable in a large scale. The best blue and green paint colors will have quite a bit of gray in them, good yellows will have quite a bit of brown. – Lorain Design Associates

Think of paint color like a mood ring. Every house will have its own mood, or variation of color, based on its exposure and lighting. Both natural and artificial light change how we see color. A lovely beige in the morning may be a sickly green at night. Place paint samples on all walls in a room and check them at different times of the day. If there are artificial lights in the room, turn them on and see how the color is affected, this way you can better see the final color results. – iPaint and Contract

Consider lighting. If you intend on upgrading any lighting in the space, double-check your selected paint colors after the new lighting has been installed if possible. Colors look completely different under different types of lighting. Unless you're using the exact same bulbs in new fixtures, the color is going to change. – SG23 Design

Look outside. There's no better color inspiration than nature itself. Start by looking through the windows of the space you'd like to paint. Do you want to complement or contrast the colors you see? Also, a nature or garden walk can help you identify colors you find attractive. – Home Works Painting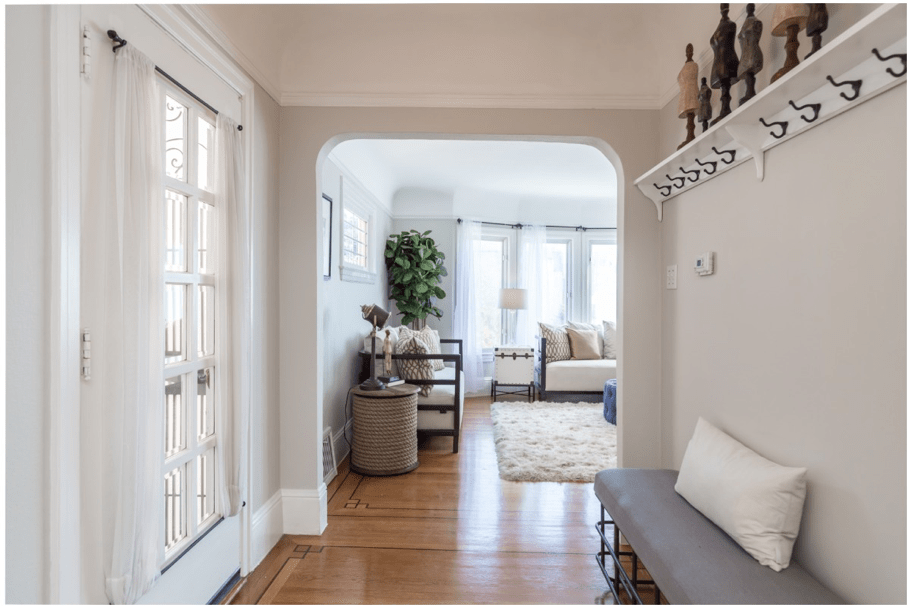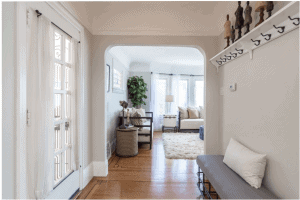 Select paint by the rule of 3's.
The field color: This is the color, typically a neutral, that is the background for everything. Clean and bright whites, steady and true grays, cool or warm tones – these all influence the vibe you want in the room.

The trim color: Is this going to be a neutral or high contrast option? Ask yourself do you want to see it or do you prefer they be quiet?
The accent color: This may or may not be paint, it may be wallpaper, drapery, pillows, area rugs, or other accents. However, you should always consider the "pop" of color that you want to incorporate into the scheme before settling on a paint palette.
Don't forget about the paint finish. The paint finish, or sheen level, impacts the paint's color, mood, and tone. – K. Smith Interiors
When choosing your colors, get both one shade darker and one shade lighter. Once you have gotten samples of your choice, coat several pieces of standard white paper and place it on different walls throughout the space getting painted. The colors will react differently with sun and shade. This will ensure you are happy no matter the weather. – Go Green Painting
Find your favorite color vase or piece of art and then color match. Since it may be difficult to drag that piece of art into a store for color matching, you can purchase a color match tool on amazon that uses an app on your phone. Digitally scan the color with the tool and the color names will generate, along with the brand of paint to match that color. – Savvy Interiors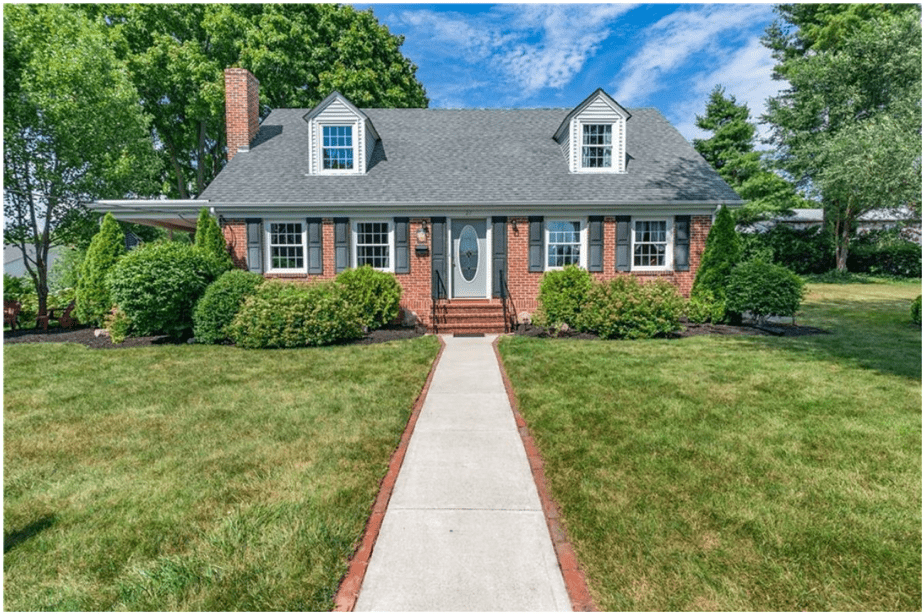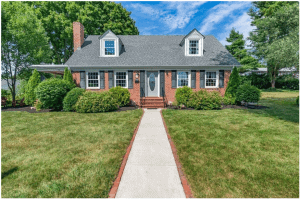 Play around with painting your front door and shutters. By doing so you can easily change the look of a good neutral color running throughout the rest of your home. These areas also tend to be easy to paint and can add all the front character you need, especially when combined with some details like landscaping, flowers, and porch décor. To help visualize different color schemes, take a quick photo on your phone from squarely in front of your house and use a photo editing app or program (Canva is easy and free if you aren't a Photoshop user) to overlay transparent colored rectangles on the door or other places you are considering painting. – True Design House
Have some fun and paint the ceiling. Playing with paint really begins with your ceiling (or as we designers call it – the fifth wall). By keeping your wall color neutral, and adding a pop-of-color, a fun wallpaper, or even a patterned stencil to your ceiling, you can creatively add personality to your space. If you want a more rich and elegant look, we recommend painting the walls, as well as the baseboards, crown moldings, and trims with the same rich, saturated color. This gives the room the appearance of additional height and makes the molding stand out in a whole new way. – Grey Hunt Interiors
Do a virtual consultation. In an increasingly digital age, virtual consultations are a huge advantage in any industry. Especially when they're free. No matter where you are in the country, a virtual mockup is a great first step before this crucial home improvement. Consider a virtual mockup – through Sherwin Williams or Benjamin Moore – before your next professional paint job.- Mission Painting and Home Improvements
Alternatively, consider hiring a professional service. Regardless of your experience level, it's always a good idea to consider hiring a professional painting service for several reasons. A good painter can offer expert guidance and save you time as well as the hassle of prepping your space and cleaning up afterward, not to mention the high-quality finish. – Robinson Painting
Originally published by Redfin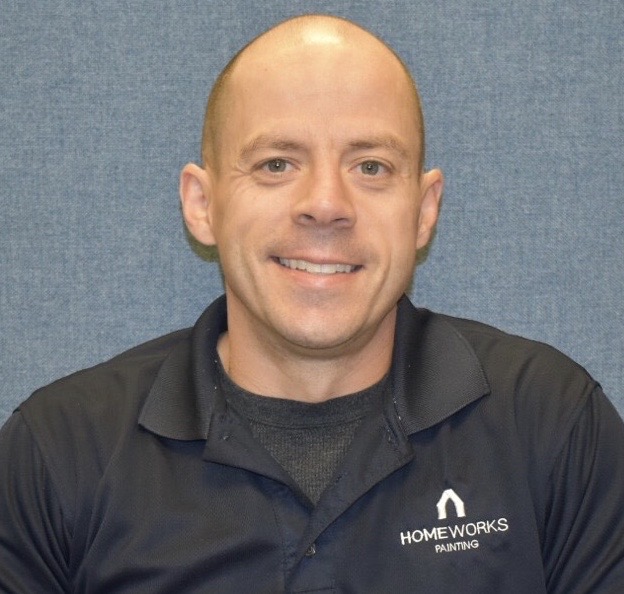 Mike Katounas is the owner of Home Works Painting, a painting business in Northern Virginia. He has over 15 years of experience in residential interior and exterior painting, drywall installation/repair, carpentry, wallpaper removal, power washing, commercial painting, color consultation, and staining/sealing. Their service areas include Chantilly, Fairfax, Herndon, Oakton, Reston. Mike takes pride in his work, and he always follows a strict code of conduct that includes the use of quality paint, a clean workspace, and an honest, respectful approach to his customers.