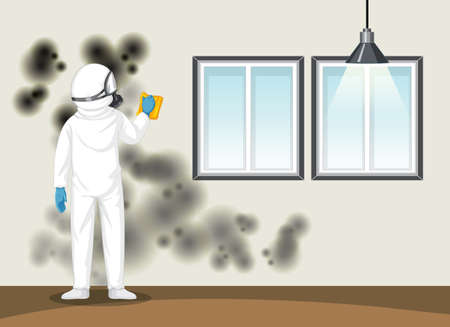 28 Sep

Can you paint over mold?

Mold can be a serious sign of a problem. It's far more than just unsightly. Most importantly, it can be dangerous to your health. It might be tempting to paint over mold, but experts strongly advise against it. You can (temporarily) hide it with paint, but you wouldn't be addressing its cause. And that can lead to big problems.

Here is what you need to know about mold – and if you can do anything about it.
Defining Mold
Simply stated, mold is a type of fungus. It grows and thrives in moist environments, like bathrooms and basements.
There are many kinds of mold, some harmless and some very toxic. Most at risk are those with asthma or allergies. However, mold can cause health issues like upper respiratory infections, skin irritation, and organ damage in some cases.
The appearance of certain molds in your home should not be taken lightly. Sometimes, you may need to hire a professional mold remediator to determine its source and remove it.
Mold Signs
Mold is only sometimes apparent as surface growth. It can also grow under paint. A few signs that you might have mold include raised, cracked, or bubbling paint or bubbling. Yellowish or brownish stains can indicate signs of water damage, which could breed mold growth. We recommend calling a certified professional if you suspect mold growth in your home for mold remediation.
Should You Paint Over Mold?
No. Given the potential for dangerous health issues due to mold, you should not paint over mold. Painting over mold is a temporary solution to a potentially severe problem. Instead, you should determine the source of the mold. Address the cause. And remove the mold – or have it professionally removed for best results.
Only paint the surface once all mold is removed and you have a clean surface.
What To Do If You Find Mold
Here is what you should do if you find mold in your home:
 Assess the breadth of the mold while wearing an appropriate mask.
Try to determine the mold's source and the extent of the damage.
If you find black mold or you can't determine the source or extent of the mold, seal off that area immediately and call a professional.
Depending on how widespread the mold is, any sheetrock or other material might need to be removed and eventually replaced after remediation.
Whatever you do, don't paint over mold to hide it. Once all of the mold in your home has been professionally remediated, call us at Home Works Painting to repaint for you. We are a reputable Northern Virginia painting contractor with decades of experience.