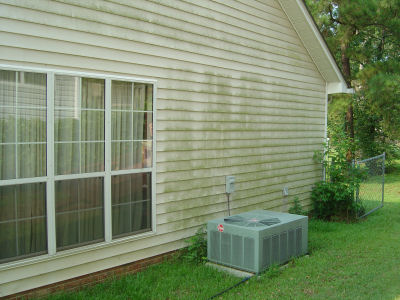 06 Jun

Why is one side of my house moldy?

Do you find mold growing on just one side of your Virginia home's exterior? That's not unusual. Whatever type of siding you have, it's not uncommon to find mold mainly growing on one side, usually the north-facing wall. There are several reasons for this, and, importantly, you'll want to remove the growth. Ignoring it could lead to costly repairs later on.

Shade and Damp

Mold, algae, and mildew are attracted to shade and dampness, which tend to be on north-facing exteriors. Trees and shrubs will block sunlight from reaching your home's north wall, and sunlight helps to keep things dry.

Some homeowners are surprised to suddenly see mold, algae, or mildew growing on once clean walls. If you see growth on walls that were once pristine, look to see what's blocking the sunlight from reaching the walls. The culprits are usually shrubs and trees that create shade and trap moisture where the sun once kept things dry.

Clean Things Up

You'll want to keep the walls clean, not allowing the mold, algae, or mildew to grow and spread. If you do regular cleaning, it should come off easily with water and soap using a soft-bristle brush or power washer. Tip: There are specialty products for exterior mold and mildew removal you can purchase at your local home improvement stores.

Depending on the extent of the growth, it might be better to hire professional power washers. They have essential expertise, which means they know what products to use and how to remove the growth correctly, depending on the type of siding. Misusing a power washer can cause injury and damage to the siding, turning a cleaning project into a repair job. It's typically a job for someone with professional experience.

Lastly, consider keeping the shrubs and trees on your northside trimmed just enough to allow sunlight to reach the walls, keeping things dry.

We are happy to evaluate your power washing needs to see if Home Works Painting can help.