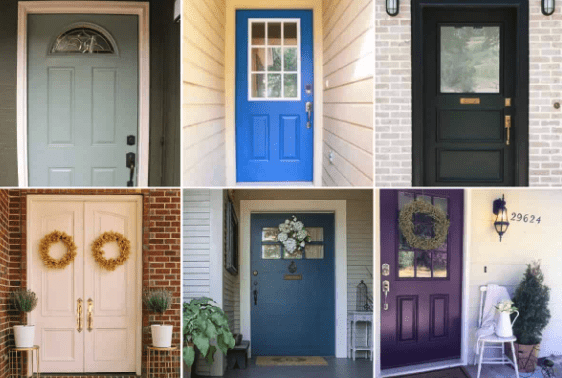 03 Apr

Transform your front door in 2023

It's early 2023 and a great time to rethink your front door color! Changing your front door color is an easy way to add instant curb appeal to your home. Your home's facade is usually a visitors' first impression. An attractive door color is an essential part of that first impression. We've compiled some trending front door colors from various sources.

In the last few years, we've seen a soothing earth tones trend as we tended to remain closer to home and brought nature indoors. In 2023, color experts, designers, and paint manufacturers are leaning more toward bigger, bolder, and more self-expression. Rich, strong colors are experiencing a resurgence in design, while soothing neutrals remain popular. Basically, you do you! You should select colors that make you happy while being attractive in your home.

Consider This
Front Door Color Ideas
Dark Colors
Dark-colored front doors can act as a neutral or highlight, drawing attention. Also, dark front doors are elegant and eye-catching.
Go Green
Green is a beautiful choice for most houses and styles, whether light or dark. If you want to be more daring, go light or bright green. Use a darker green for a more traditional look.
Blues
It's hard to go wrong with blue. It's a perennial favorite in almost any shade – and there's a shade for any design style!
Browns
Earth tones are a no-fail option for exterior painting, including front doors. These hues suggest an inviting back-to-nature feel – making them ideal for a home's exterior.
Let's Work Together
We're happy to advise you on color combinations for your home's exterior. There are countless possibilities and numerous factors to consider. Call our office or use our website's online scheduler to arrange an appointment for a free estimate for your painting needs. Let us help you transform your home!