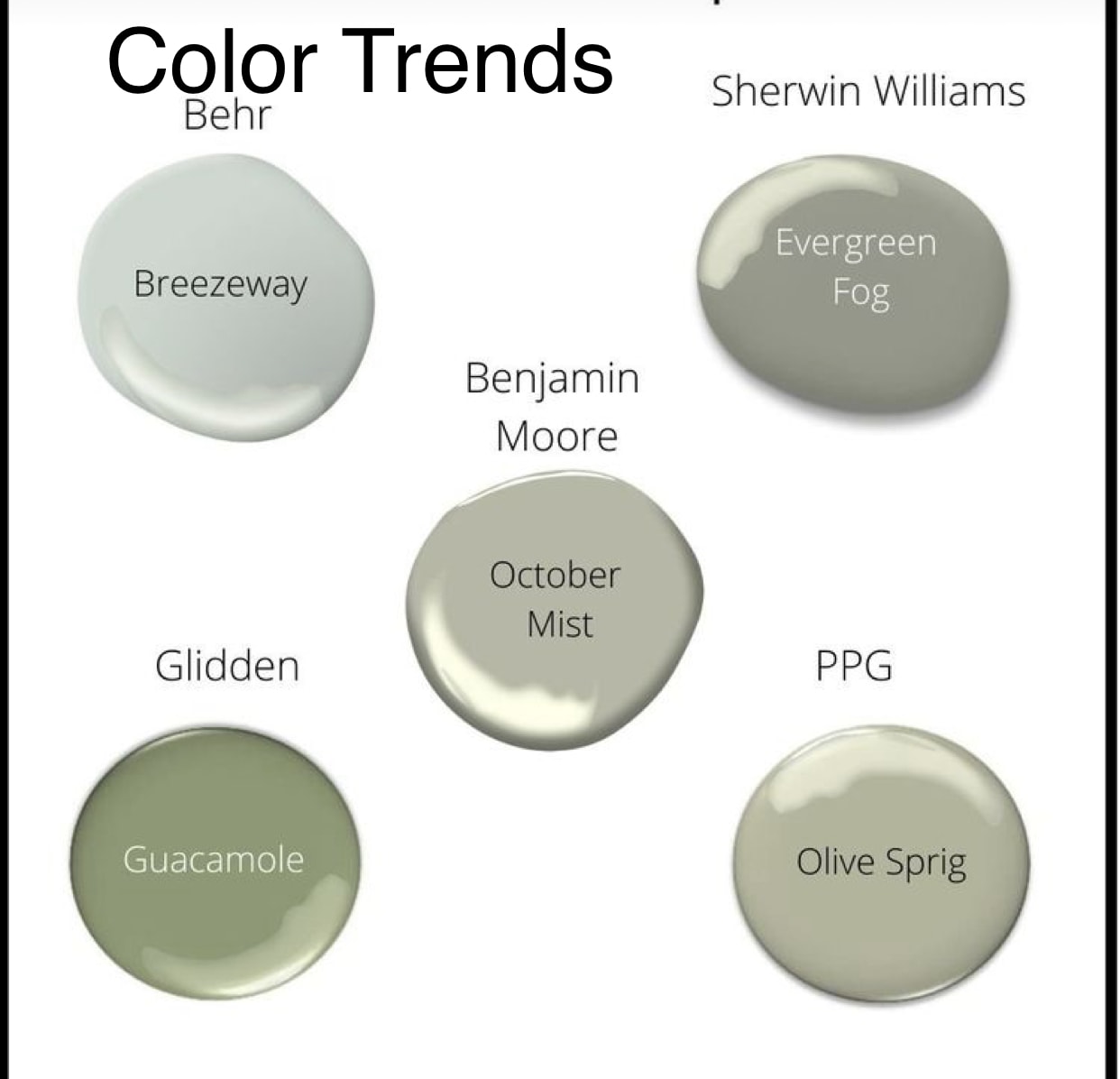 11 Jul

The Latest on Color Trends!

After years of white, grey, and more grey, there's a color transition occurring, including paint colors. Houzz reported in 2021 that searches for green kitchen cabinets were up a whopping 829% from April-June 2021, compared to the same time the previous year. Google "paint color trends," and images show chalky greens, moody blues, and more earth tones than we've seen in almost a decade! So, what gives?

The pandemic affected how we have lived over the last two 1/2 years. We've spent more time at home than ever, and people want to feel comfortable in their homes. Earth tones ground us and seem to wrap their arms around us like Mother Nature.

"Nature-inspired neutrals, retro brights, and timeless whites should be your go-tos for creating warm, welcoming, and personalized spaces," according to Martha Stewart.com.

We're moving toward warmer neutrals or bolder colors to brighten up spaces rather than cool neutrals.

Here are some colors to consider if you'd like to change things up in your home:

GREEN – Bring nature into your home with green.
Sherwin-Williams' 2022 Color of the Year, Evergreen Fog SW 9130, is an earthy green-gray.
Farrow & Ball's Breakfast Room Green No.81 is a cheerful, warm green.
Benjamin Moore's October Mist 1495, Color of the Year 2022, is a lovely sage green.
BLUE – Blues trending in 2022 tend to have a warmer, chalkier tone or the very opposite: a light, pastel.
Sherwin Williams' Aleutian (HGSW 3355) is a light indigo blue.
Benjamin Moore's Quiet Moments 1563 is a mix of blue, green, and gray.
Also from Benjamin Moore is Mysterious AF-565, a dark denim blue that looks almost black or charcoal.
WHITE/NEUTRALS – Everyone needs a good white paint color in their life!
Benjamin Moore White Dove (OC-17) is a popular paint color that never goes out of style, either for walls or trim.
Benjamin Moore Acadia White (OC-38) is a warmer white closer to ivory.
Farrow & Ball's Drop Cloth No.283 is a popular cabinet color. Open a British design catalog (the Brits tend to always be on-trend with design), and you'll likely see this color on kitchen cabinets or walls. (Benjamin Moore's Revere Pewter is similar.)
BOLD COLORS – Bold colors are also making a comeback – but we like to think they never went out of style!
PANTONE 17-3938 Very Peri is a pretty periwinkle color, ideal for bedrooms.
Benjamin Moore's Wild Flower 2090-40 blends pink, red, and orange for a terracotta-like color.
Benjamin Moore's Raccoon Fur 2126-20 is a lighter shade of black with a hint of blue/violet.
EARTH TONES – Brown is back! Enough said.
Farrow and Ball, London Clay, is a deep brown that is simply stunning. Check out Chris Loves Julia's Instagram account for how they used it in their recently redone bedroom.
Benjamin Moore's Nimbus 1465 is a warm taupe color for walls or cabinets. (We're seeing a lot of taupe kitchen cabinets these days!)
If you're ready to give your home a refresh or a whole new look, we're happy to assess your project and give you a quote! Just call our office to arrange or use our online scheduler. We look forward to helping you to transform your home!