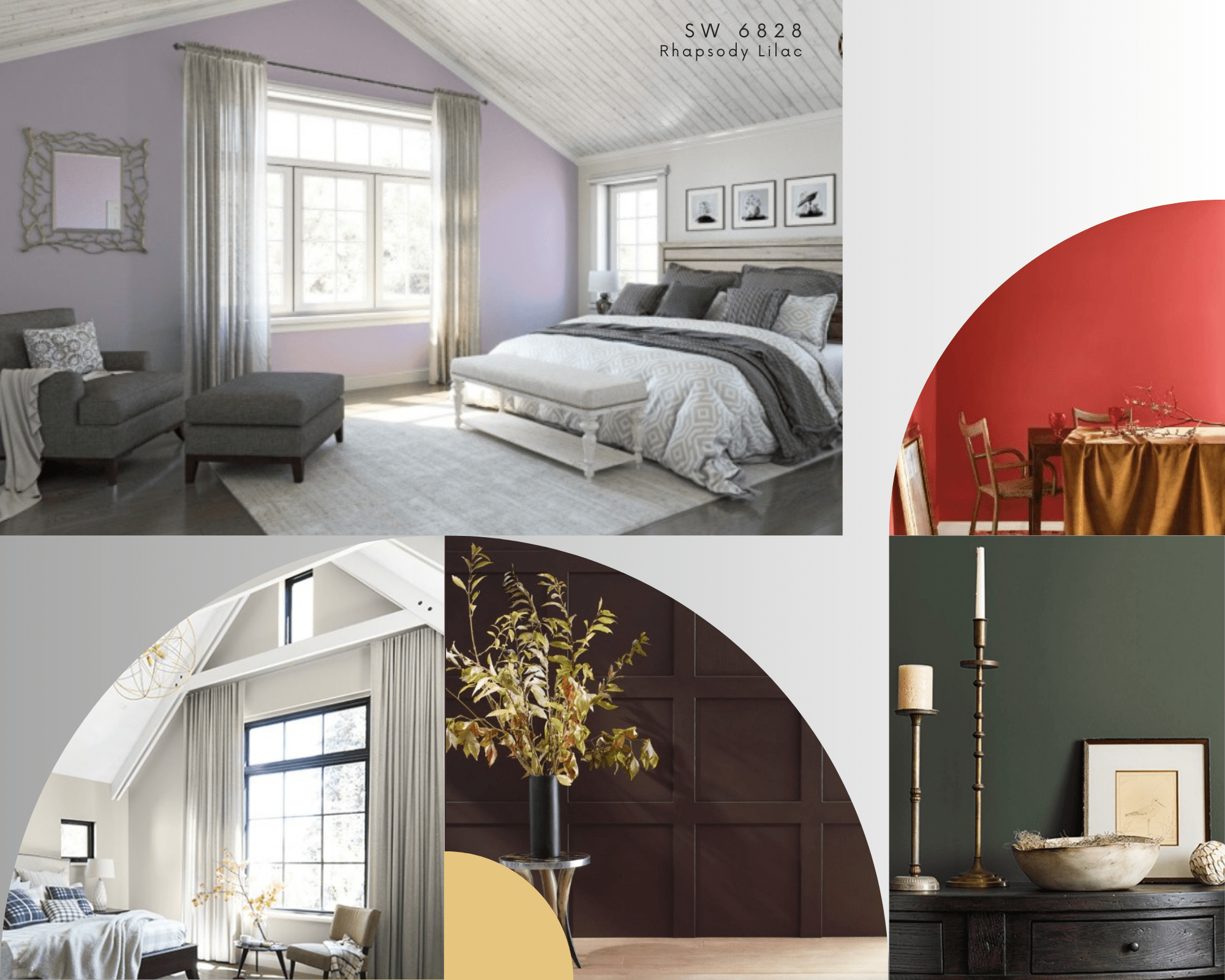 01 May

Six Popular Color Trends This Year

At the end of 2022, many paint manufacturers released their "color of the year" selections for the coming year. Since then, we've seen several articles discussing color trends. The concept of cozy and back to nature is at the heart of interior design's latest paint color trends. We want our spaces to feel serene and connected to nature.

Neutrals are still popular – and always will be – but there's also a pronounced shift toward warm hues that envelop us comfortably in our homes and offices.

After years of gray and white decor, vibrant colors are making a solid comeback – as are richer hues. If you're uncomfortable putting them on your walls, pops of color in room accessories are an excellent way to update your home.
Five popular color trends:
Green: A perennial favorite that comes and goes (but never really goes completely out of style), green is trending. Bottle green or hunter green are popping up as accent walls or color-bathing entire rooms, including ceilings and trim molding! Deeper emerald green is also popular. Green is the color of nature and evokes feelings of serenity. While we're seeing a lot of deep greens, sage remains popular as well. Take a look at Sherwin-Williams's Foxhall Green.
Lavender: Younger adults are favoring lavender! Gen Zers have moved on from blush pink and moving more toward lilac hues instead. It's so on trend that manufacturers and clothing designers have caught on. Lavenders and lilacs are optimistic colors that spark imagination and relaxation. A lovely lavender is Sherwin Williams' Rhapsody Lilac.
Orange & Reds: Benjamin Moore's color of the year for 2023 is Raspberry Blush, a fiery red-orange. This bold, perky color is warm and energizing. It's the opposite of the whites and grays we've been seeing in recent years. Its popularity marks a bold shift toward warmer colors. Choose an orange if you're looking for something less intense than red. You'll create a warm and inviting space, making it ideal for a playroom, family room, sunroom, or even a foyer or dining room! If orange still feels too bold, try a terracotta tone instead.
Warm Neutrals
You can rarely go wrong with neutrals. We're seeing a shift, though, from cool neutrals to warmer, richer neutrals. These envelop a space in warmth and serenity without overpowering the senses. Remember that black is considered neutral, and we see tons of it! It's particularly popular in home offices, libraries, and even living rooms. Try Sherwin William's Shiitake if you want to repaint your kitchen cabinets (away from greys and whites). It's warm and increasingly popular on cabinets.
Brown: Brown is back, which is excellent news for earth-tone lovers! As much black as we see, we also see many browns in various shades. Any shade of brown is making a solid comeback. It's a return to the earth and offers a sense of grounding and nature in our homes. Brown is a soothing color that connects us to nature. We love Benjamin Moore's Wenge, a deep rich brown color.
Tropical hues:  Along with a move back to richer, bolder colors, deeply saturated hues from nature are also seeing a resurgence in popularity. This includes rich mustard and ochre colors. Think tropical, energizing, and rich colors. These also include jewel tones, which should please those who love big, bold colors! Sherwin-Williams's Foxhall Green.