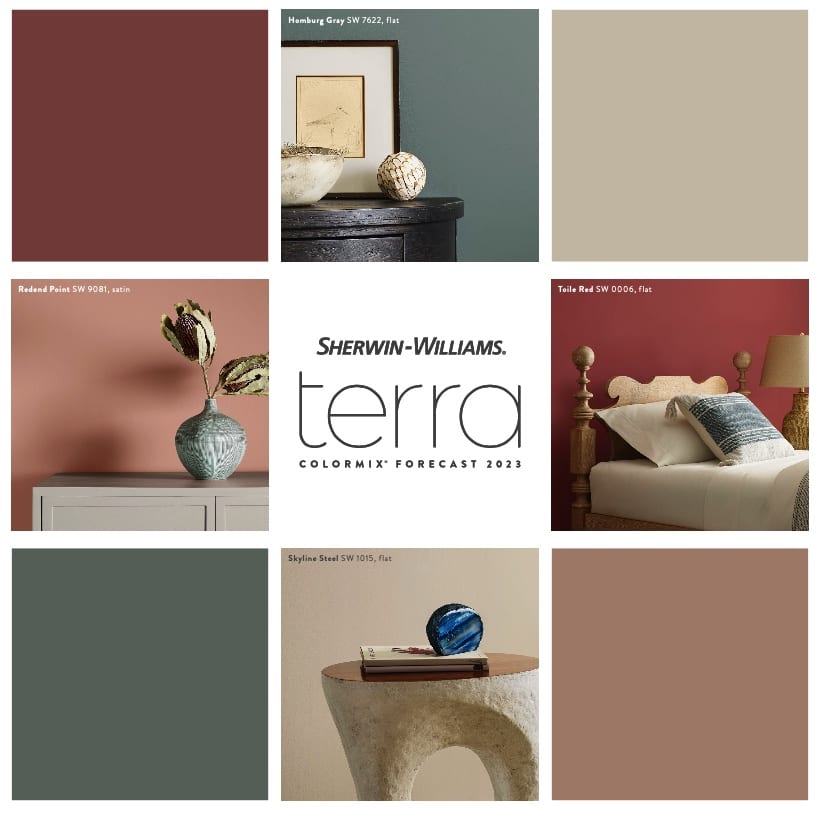 30 Sep

Sherwin-Williams Says These Colors Will Rule Interiors in 2023

Paint color trends often reflect how broader society is feeling or behaving. Cool greys, whites, and pastel blues and greens have been popular for several years. Then about two years ago, we began to see a few hues more rooted in nature peeking through, particularly in "color of the year" selections by paint manufacturers. Now Sherwin Williams' new collection, TERRA, is a curated palette of 40 colors spanning the spectrum of green and blue to brown, warmer neutrals, and a few yellows. It's a befitting selection (homage?) given this summer's heat waves, droughts, and wildfires across the globe.

"We know that we're getting energy from the earth and the things that we're trying to do to move forward, but how does that impact design?" Sue Wadden, the brand's director of color marketing, recently told Architectural Digest. "Our story this year was really about asking 'How do we restore ourselves? How do we move forward? What's the right tone that we want to take?'"

The result of that perspective is TERRA, which consists of four palettes: Biome, Lore, Nexus, and Origin. The collection also features the brand's 2021 and 2022 colors of the year (Urbane Bronze and Evergreen Fog, respectively). Here are further details on the new collection.

The Biome palette reflects a desire for indoor-outdoor living and a broader environment. "It's not just about soothing natural tones. There are also a lot of darker tones in Biome, which is maybe a reflection of the fact that things are intense in the world," Wadden explained to AD. "We understand that nature and its benefits are really about sustainability and regeneration, but there's also some darkness there." Biome's colors include:
Homburg Gray and Mount Etna, a rich blue-green coordinate well with light or blonde wood-toned cabinets.
Shiitake and Rookwood Medium Brown are neutrals that work well with natural materials.
The Lore palette, rich in jewel tones, pays homage to artisanal traditions and even the rise in crafting throughout the pandemic. These colors are ideal for rich interior styles and designs. Lore colors include:
Wallflower is a light amethyst color.
Blue Peacock will appeal to turquoise lovers.
Serape and Nugget introduce rich golden shades.
The Nexus palette pulls from Scandinavian minimalism pulling in subtle browns and other earthy tones. This is an earthy palette with a hint of peach and orange, ideal for any space where you want neutral but warm serenity.
Malted Milk evokes loamy sand.
Reddened Earth reminds one of a hot sunny desert.
The Origin palette is for perking up a space with bold primary colors rooted in the land. Sherwin Williams imagined these for today's hybrid work-live environments – they energize a room without overwhelming it.
Mount Etna inserts a pop of rich blue with a hint of deep turquoise.
Fabulous Grape is a vibrant purple.
Kale Green is more of neutral hunter green, somber but still bright.
Sherwin Williams will announce its 2023 Color of the Year later this fall. We'll post about it once they do, so follow us for updates!